FIU National Merit® Scholarship
Welcome
Congratulations, for being named a National Merit Scholarship semifinalist! As someone who wants to change the world, you will need a university dedicated to being a solution center; a place where you have the resources and freedom to explore new ways to solve the challenges of the 21 st Century. At FIU, the work of our students, faculty and staff has a real impact on the real world. We hope you'll take a closer look!
Jody Glassman, Associate Vice President of Enrollment & University Admissions
The best way to learn about FIU is to visit us. Explore our campuses and get to know the REAL FIU. 

As a National Merit student, you are guaranteed admission into the Honors College. Learn about the benefits of joining. 

Check out the private room and amazing amenities included in your scholarship.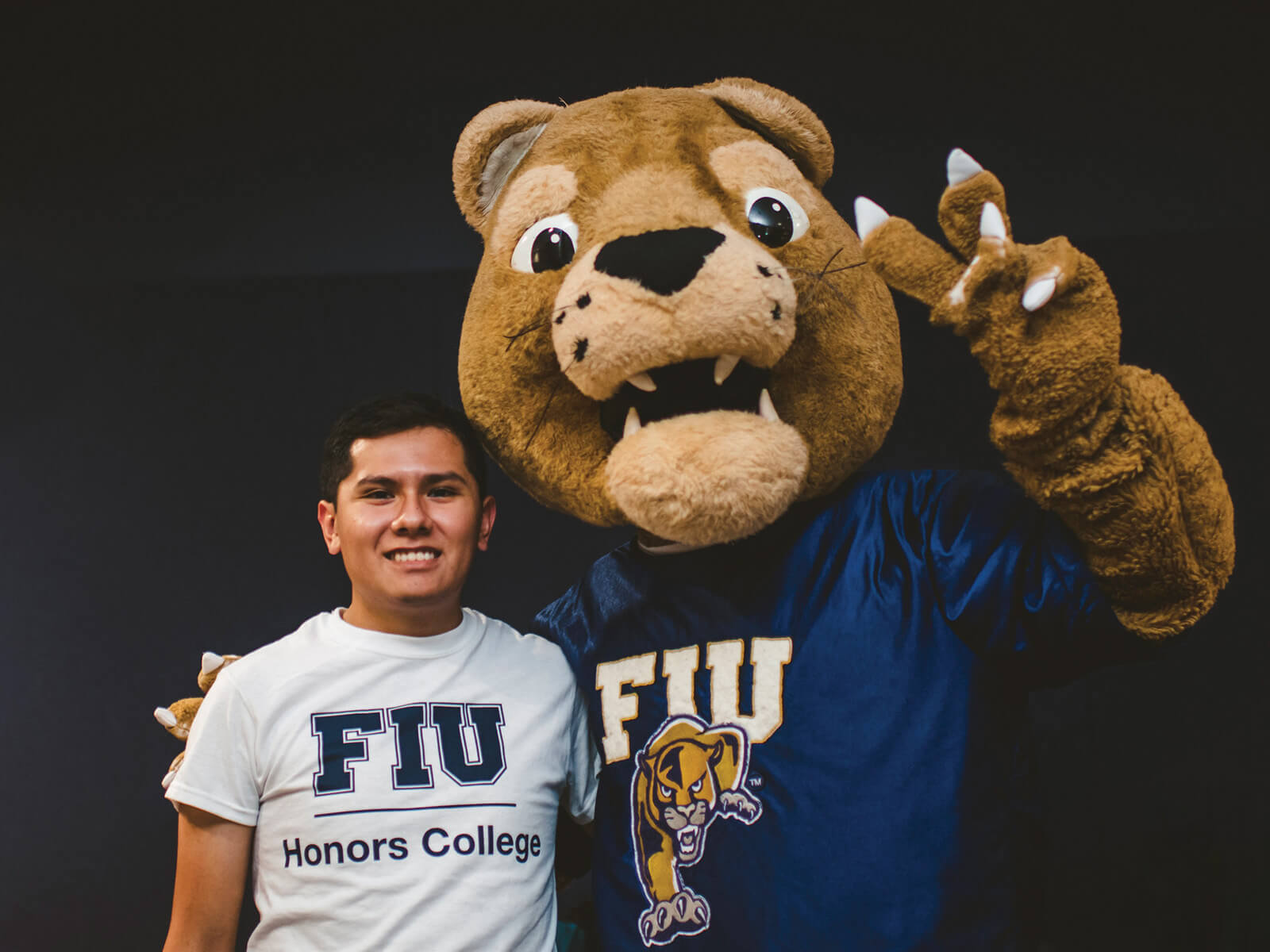 Early Assurance Program
Students in the Honors College can apply to the Early Assurance program as sophomores. This program allows FIU Honors College pre-med or pre-law students to be considered for guaranteed admission to the Herbert Wertheim College of Medicine and the FIU College of Law. In addition to securing an acceptance of admission (if all standards are met), the EAP program will assist students throughout their pre-law or pre-med planning by helping to define and broaden their academic interests and by providing educational enrichment as students explore and learn more about the medical or law professions.
EAP Herbert Wertheim College of Medicine
I chose FIU because it offered me the ability to pursue any passion and explore. With FIU, I've been able to take classes that truly interest me and I've been able to travel and go abroad! At FIU, I was able to find a job on campus that helped me nurture that passion and create videos and photos for their social media accounts and with this experience, I was able to secure an internship and a potential job offer at Sony Music!

—Katherine "Kat" De Jesus - National Merit Scholar, FIU Honors College
The first time I stepped foot on FIU's campus was when I attended FIMUN, FIU's high school Model UN conference, in March 2018. I knew immediately that it was the place for me. FIU's Model UN team granted me the opportunity to travel across the continent 8 times in 2019, and built my professional network. FIU is a school whose merits far exceed what may be outlined by others, and I hope to be a part of what continues to drive our university forward in the national and international spheres.

—Alex Anacki - National Merit Scholar, FIU Honors College
When you are a National Merit Scholar at FIU, you get the opportunity to be a big fish in a small pond as opposed to one of many. Even then, FIU is anything but a small pond. FIU has given me great resources through our pre-med counselor, pre-med clubs and honors societies. They also have hundreds of ongoing research projects which will eventually help me gain lab experience before applying to medical school. FIU offers its students so many opportunities to learn, grow, and connect with others; I truly feel that I am being prepared for my future after college.

—Vivian Caballero - National Merit Scholar, FIU Honors College
Calendar
Keep yourself on track