Our campuses are beautiful, our student life is dynamic and our culture is diverse. Visit our Modesto A. Maidique Campus (MMC) or Biscayne Bay Campus (BBC) and we think you'll agree. Just sign up for a campus tour and we'll be happy to show you around.
Call or Email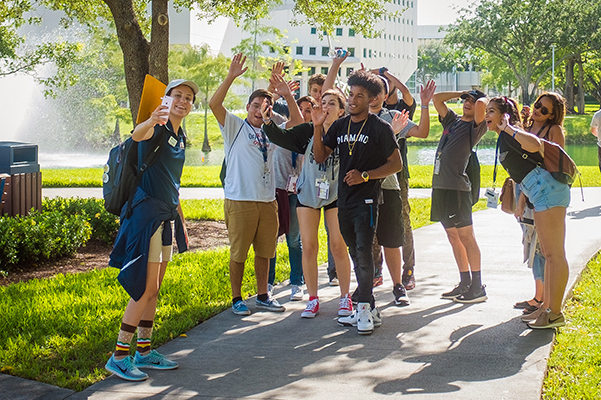 PLUS Upgrade Tours
Interested in a specific major or area of study? Get a closer look with a Campus Plus tour. You'll learn more about certain majors/programs, tour facilities and classrooms dedicated to the area of study, and discover resources available to FIU students. It's also a great way to meet FIU students with common interests and learn more about an individual area or major.


Transfer Events
Are you interested in transferring to FIU? This is the visit for you. These sessions are dedicated to transfer students and feature an admissions information session, financial aid counseling, information about transferring credits and more.
Upcoming Dates
Group Tours
When available, this option accommodates 8-40 participants for tours of our MMC or BBC campuses. If you would like to request a group tour for more than 40 guests, please contact the Tours office before submitting your request.
Availability
MMC: Monday–Friday, 10am–12pm; 2pm–4pm
BBC: Mondays and Fridays, 10am or 12pm